Share on Twitter or Linkedin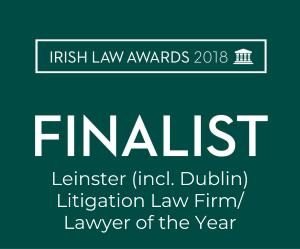 Hanahoe and Hanahoe solicitors were delighted to be nominated as Personal Injury & Medical Negligence Law Firm of the Year at this Irish Law Awards. Our firm is very proud of the all the hard work we have done over the years assisting countless numbers of clients who have suffered serious injuries as a result of accidents or medical negligence.  At Hanahoe and Hanahoe we take our responsibilities to our clients, the profession and the Court incredibly seriously. We are committed to continued development of our knowledge and expertise in all area's of the law, but particularly in the areas of personal injury and medical negligence law*. We also strive to have the most update technologies and case management systems to ensure that we can provide our clients with the optimum service. We see this nomination for the this award as an acknowledgement  not only to our expertise in the areas of of personal injury and medical negligence law, but also of our commitment to our clients.
For further information in relation to personal injury or medical negligence claims please do not hesitate to contact Hanahoe and Hanahoe solicitors on 045 897784 (Naas Office) or on  015255637 (Dublin office) or at info@hanahoeandhanahoe.com or on Facebook
This article is merely for information purposes and is not and should not be taken as legal advice. If you have any queries in relation to this or any other aspect of personal injury or medical negligence law* you should consult with a solicitor who specialises in personal injury and medical negligence law*. No solicitor/client relationship or duty of care or liability of any nature exists between Hanahoe and Hanahoe solicitors, until you receive written confirmation that we are acting as solicitors on your behalf.
*In contentious business a solicitor may not calculate fees or other charges as a percentage or proportion of any award or settlement.
Share on Twitter or Linkedin