Share on Twitter or Linkedin
Book of Quantum, a Personal Injury* Compensation Guide
The Book of Quantum was created by the Personal Injuries Assessment Board in 2003, to provide people with general guidelines on how much compensation they should be awarded if they have been injured in an accident, caused by the negligence of someone else. The Book of Quantum was last revised in 2016 and the current guidelines can be accessed here. The Book is compiled by assessing a large number of sample personal injury cases which have been litigated before the courts. The book is based on personal injury cases brought in 2013 and 2014. This is a very important consideration when trying to assess the value of a personal injury claim in today's climate.
Book of Quantum and Personal Injury* Guidelines Committee
There has been significant pressure from the insurance industry, some business groups and certain portions of the media to decrease the amount of compensation being warded by the Courts in personal injury cases, particularly in soft tissue type cases. This has resulted in the Judicial Counsel Act being passed in 2019. The goal of this act was to establish a Judicial Counsel which would facilitate the education and training of judges, provide a mechanism for investigating complaints against judges and establish sentencing guidelines and guidelines with respect to the awarding of damages in personal injury claims. This is seen in the establishment of the Personal Injury Guidelines Committee which is to be chaired by the Honorable Judge Irvine.
Book of Quantum and the Reduction in Damages in Personal Injury Cases*
On foot of a couple of notable decisions on the Court of Appeal, the awards been granted in personal injury cases have significantly reduced in the last eighteen months. This coupled with the establishment of the new Personal Injury Guidelines Committee, would lead one to wonder whether the Book of Quantum can still be considered an accurate guide when valuing personal injury actions. Indeed, reference to this has been made by a number of High Court judges in recent times. That said, the Book of Quantum was only ever designed as a guide and is still useful for that purpose, even if you have to allow for a considerable discount when assessing the valued of a case.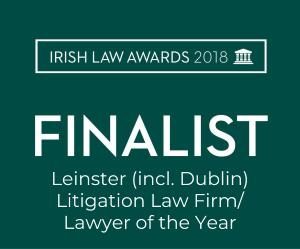 Seek Advice from a Solicitor who Specialises in Personal Injury Law.*
If anything, the current climate underlines the necessity of getting good legal advice from a solicitor who specialises in personal injury law, when bringing a personal injury claim. For further information on the Book of Quantum or indeed any aspect of personal injury or accident law, please do not hesitate to contact Hanahoe and Hanahoe Solicitors on 045-897784 (Naas Office) or on  01-5255637 (Dublin office) or info@hanahoeandhanahoe.com, on LinkedIn or Facebook
This article is merely for information purposes and is not and should not be taken as legal advice. No solicitor/client relationship or duty of care or liability of any nature exists between Hanahoe and Hanahoe solicitors, until you receive written confirmation that we are acting as solicitors on your behalf.
*In contentious business a solicitor may not calculate fees or other charges as a percentage or proportion of any award or settlement.
Share on Twitter or Linkedin