Share on Twitter or Linkedin
Luke Hanahoe, Managing Partner at Hanahoe and Hanahoe Solicitors, is elected as President of County Kildare Chamber of Commerce
Hanahoe and Hanahoe Solicitors are delighted to announce that our Managing Partner Luke Hanahoe has been elected as the President of County Kildare Chamber of Commerce. County Kildare Chamber is one of the biggest Chambers in the Country, representing over 400 businesses, who employ nearly 37,000 people. In 2019, the County Kildare Chamber was delighted to win the award for Chamber of the Year on behalf of their membership at the Chambers Ireland Awards. Tony Hanahoe, partner and head of the Commercial and Business Law department was understandably delighted with Luke's appointment.  'Hanahoe and Hanahoe Solicitors, have a long standing connection with Kildare Chamber of Commerce. Many of our corporate and commercial clients are Chamber members and we share the Chambers commitment to developing an advancing business throughout the County.'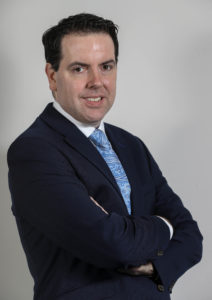 On his election Luke Hanahoe said, " It is an incredible honour and privilege to be elected President of Kildare Chamber. I am really looking forward to working with and on behalf of the membership to ensure Kildare businesses continue to thrive.  The membership of Kildare Chamber is incredibly well served by Allan Shine and his team and I will work tirelessly with them to ensure the Chamber continue to provide the services that our members require and deserve".  Stepping down as President after two extremely successful years was Maureen Bergin of Kildare Village who said at the meeting, "  There were many highlights during my term as President, that included the hosting of 33 Ambassadors to Ireland in The K Club, our recent trade mission to Boston, which was a huge success, the array of internationally renowned speakers we brought to Kildare, including Sir Ranulph Fiennes OBE and Stuart Lancaster and receiving the award for Chamber of the Year on behalf of our membership at the Chambers Ireland Awards.
Allan Shine, CE of the Chamber said today, " Maureen Bergin served as President of the Chamber for 2 years and in that time the membership has grown to 400 businesses, we have embarked on two very successful trade missions this year and  I believe that our complete offering to businesses in Kildare has evolved and that this Chamber is on a strong footing going forward.  I look forward to working with our new President Luke Hanahoe in his term in office and also with the newly elected committee members, Brian Purcell and Clodagh Hughes.
Luke Hanahoe's Vision for Business
Luke Hanahoe has a vision for business over the next two years in Kildare which will see the Chamber offerings increase.  " We will launch a new Chamber Advisory Panel later this year. We are asking 15 key stakeholders in Kildare, who are at the pinnacle of  their different industries to support, advise and mentor many of the exciting and emerging  SME's based throughout the county.  We are lucky that Kildare has amazing array of business leaders, who are thankfully eager to support our many SME's. I look forward to launching this initiative later this year.  High on my agenda will also be a meeting with Peter Carey, CEO of Kildare County Council later this month.  Peter is a passionate supported of the Chamber and business in Kildare.   I look forward to our continued co-operation with Peter and his team and I will be strongly encouraging him to endorse business in the county by obviating  any potential rate increase. We require our Local Government to be pro-business and we need Kildare to be an attractive place to do business.  We in the Chamber will work alongside our County Council to ensure that Kildare remains the location of choice for business.

This, like any year, will present new challenges and opportunities for business throughout the county. A strong business voice is essential so that we can meet the challenges and maximize the opportunities. For businesses in Kildare that voice is the Chamber. However, the Chamber is only as strong as its membership so I would urge all businesses in Kildare to join our Chamber, so we can become one voice, to serve, promote and grow the business through the county."
Hanahoe and Hanahoe Solicitors wish Luke the very best with his Presidency and look forward to working with the Chamber and its membership.
KFM Interview
Luke was also interviewed by Ciara Plunkett on his roll as President on KFM. If you wish to hear the interview you can do so here https://soundcloud.com/kfmradiokildare/kildare-focus-18-10-19
Share on Twitter or Linkedin