Share on Twitter or Linkedin
Hanahoe and Hanahoe Solicitors Sponsor Kildare Business Award
Hanahoe and Hanahoe are proud to be sponsoring an award at the Kildare Business Awards on the 29th November 2019. The Kildare Business Awards are organised by the County Kildare Chamber and recognise excellence in business through out the county, across a number of categories.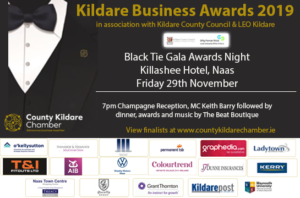 SME (6-20 Employees) Category
This year we are sponsoring the SME (6 -20 Employees) Category. Many of our commercial and corporate clients are represented within this sector,  so we are delighted to sponsor this award. The category will be hotly contested this year, where four outstanding businesses have been nominated. The nominees are:
 Go Rental, one of the country's leading vehicle rental & leasing providers. Go Rentals are based in Naas and have been operating out of Kildare for over 50 years
2. Kendlebell, the number 1 provider of personalised outsource solutions for the SME sector in Ireland.
3. Gannon Solutions, with over 35 years experience, offer a complete total office service from designing and installing a new work-space to fixing a broken photocopier.
4. Monread CRM is a  Zoho certified and experienced business consulting company that assist businesses to make smart technology investments, improve practices, and save time and money.
Commercial and Company Law at Hanahoe and Hanahoe
Hanahoe and Hanahoe have over 40 years experience advising commercial and corporate clients. We also understand that every business is different and that we need to tailor our advice to suit the specific requirements of our clients and their businesses. We advise on all areas of commercial and company law, such as mergers and acquisitions, re-structuring, shareholder disputes, shareholders' agreements, corporate governance, partnerships, company secretarial, franchising commercial agreements, and commercial debt recovery.
For More Information Please Feel Free to Contact US
For further information in relation to any aspect of commercial or corporate law, contact Hanahoe and Hanahoe Solicitors on 045-897784 (Naas Office) or on  01-5255637 (Dublin office) or info@hanahoeandhanahoe.com, on LinkedIn or Facebook
This article is merely for information purposes and is not and should not be taken as legal advice. No solicitor/client relationship or duty of care or liability of any nature exists between Hanahoe and Hanahoe solicitors, until you receive written confirmation that we are acting as solicitors on your behalf.
Share on Twitter or Linkedin