Share on Twitter or Linkedin
Changes to the Civil Liability Act in Relation to Personal Injury Cases*
If you have been involved in an accident it is important that you realise that from the 28th January 2019 there have been amendments to Section 8 of the Civil Liability Act, 2004 regarding the obligations of the injured party to notify the wrongdoer that they intend to bring a personal injuries claim.  Prior to January 2019 the injured party had two months to notify the wrongdoer of their intention to bring an action.  This has now been reduced to one month.
Civil Liability and Failure to Provide Letter of Claim
It should further be noted that if the injured party fails to do this within one month and the matter proceeds to hearing the Judge shall draw such inferences from the failure to provide the letter of claim in this time as appears appropriate to the Court.  If the Judge finds that this failure was inappropriate they can penalise the Plaintiff as to costs.
Civil Liability Act and the Statute of Limitations
It is important that people note however that not issuing such a letter within a one month time period of the accident is not a barrier to bringing a claim for personal injuries and that the Statute of Limitations for bringing a claim for personal injuries is two years minus one day from the date of the date of knowledge. The Statute of Limitations is discussed in great detail in our previous blog 'The Statute of Limitations and Time Limits for Bringing a Personal Injury Claim'.  The purpose of this amendment to the legislation is as a counter mechanism to fraudulent and exaggerated claims.  So just because you fail to issue a letter of claim within a one month period does not mean the Judge will penalise the injured party, it just means it is open to them to do so if they feel it is appropriate.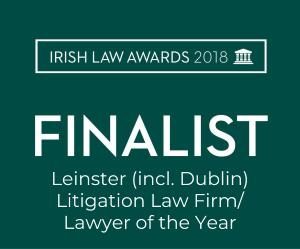 Hanahoe and Hanahoe Solicitors Experts in Personal Injury Law
For further information on the Civil Liability Act or indeed any aspect of personal injury or accident law, please do not hesitate to contact Hanahoe and Hanahoe Solicitors on 045-897784 (Naas Office) or on  01-5255637 (Dublin office) or info@hanahoeandhanahoe.com, on LinkedIn or Facebook
This article is merely for information purposes and is not and should not be taken as legal advice. No solicitor/client relationship or duty of care or liability of any nature exists between Hanahoe and Hanahoe solicitors, until you receive written confirmation that we are acting as solicitors on your behalf.
*In contentious business a solicitor may not calculate fees or other charges as a percentage or proportion of any award or settlement.
Share on Twitter or Linkedin